It is creative but not recommended to apply sun cream to the enclosure 😅
Electronics play an increasingly important role in our everyday lives and they are omnipresent. From communication technology to renewable energies or industrial plants - electronic components must be protected against water, dust or manual access wherever they are used.
Plastic enclosures - excellent protection for outdoor applications?
Especially for outdoor applications, many customers prefer plastic enclosures instead of metal. What are the advantages?
Absolute corrosion resistance
Low weight
Price advantages
Better recyclability
Often ignored in this context is the potential danger of exposure to sunlight. Not every plastic material is suitable for permanent UV impact!
Hazards for plastics due to UV exposure
UV emission is an invisible form of electromagnetic radiation emitted by the sun. Direct and permanent UV radiation breaks chemically bonded plastic chains and destroys the connections. As a result, the plastic loses its elasticity, becomes brittle and might crack. In addition, the original colour starts to fade or turn yellow.

Potential damage for enclosures?
The effects vary from a reduction in optical quality of the enclosure to a complete leakage due to brittle cracks. This might result in malfunctions or complete failure of the installed electronic components. It is most relevant for devices that are used outdoors with direct sunlight exposure, such as solar or surveillance systems.
What is the UL746C standard?
Outdoor plastic enclosures are produced from granulates that have been tested and classified as suitable for outdoor use. The test is carried out according to UL746C. This is an internationally accepted standard which specifies the requirements of electrical and mechanical properties of plastics for electrical equipment. Part of the standard is testing the material resistance to UV radiation. This involves following tests of artificial weathering:
1000 hours under xenon arc weathering
Seven-day water immersion test at 70°C
Before and after the tests, the material is analysed for relevant properties such as flammability or mechanical parameters. The test result is documented in the material's UL Yellow Card. The material is classified into two categories:

Category (f1) This classification indicates that the material meets both the UV and moisture and immersion requirements of UL 746C. The material is suitable for use in outdoor areas exposed to UV radiation, moisture and underwater conditions.

Category (f2) This classification indicates that the material has only been partially tested for UV radiation, moisture or underwater conditions or has only partially passed these tests.
For outdoor applications we recommend following enclosure series made of polycarbonate (PC)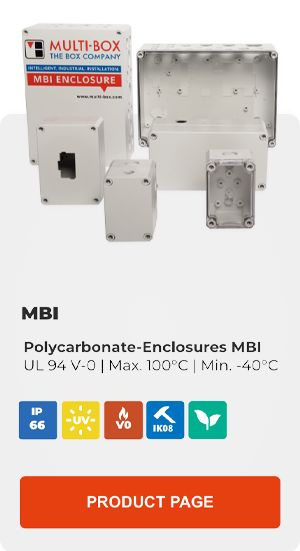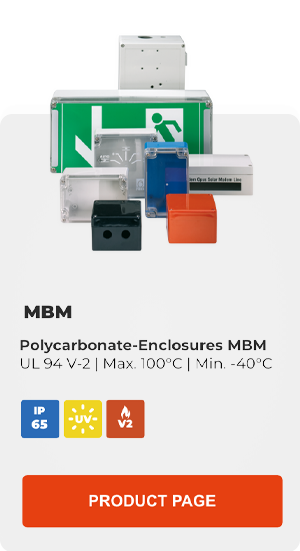 These products have the classification UL746C category (f1) and are therefore suitable for outdoor use. Depending on the requirements, they differ in shape, colour and protection class.

These advantages make polycarbonate the ideal material for outdoor plastic enclosures:
High impact resistance: Polycarbonate is extremely resistant to shocks and impacts.
Colour stability: Polycarbonate retains its transparency when exposed to sunlight and it has a high colour stability.
Temperature resistance: Polycarbonate maintains mechanical properties over a wide range of temperatures.
Transparency: Polycarbonate has high light transmission and clarity.
Weight & Flexibility: Polycarbonate is lightweight (especially when compared to metallic materials). It is also easy to form and machine.
Conclusion: The wrong enclosure for outdoor use - who wants to suffer from sunburn?
The UV resistance of industrial enclosures is a critical factor for the durability and reliability of electronic equipment. The UL746C standard provides a well-established method for evaluating the UV resistance of plastics and serves as a guide for the selection of suitable materials. The advantages of UV-resistant enclosures are obvious:
Increased durability of the device and reliable function
Maintenance of optical quality without visible discolouration and embrittlement
Cost savings through reduction of downtime and repair costs
High customer satisfaction due to reliable function
Our MULTI-BOX team is happy to assist you in selecting the right enclosure for your needs.
🌞 We wish you a wonderful and above all sunny summertime 🌴☀️
#uvprotection #mbx #multibox #sunprotection