You have the idea - We take care of the rest
In addition to an extensive range of different standard enclosures, MULTI-BOX develops and produces individual enclosures made of plastic and aluminum, if corresponding quantities are required. We implement your unique optical and technical requirements. The results are cost-efficient and customized enclosure solutions from a single source.
Development process of a special enclosure
1. Design & Construction
In close cooperation with our customers, we define the right shape of the enclosure, realize required functions and protection classes. Within a few weeks you will receive design and construction documents according to jointly developed specifications.
2. Material selection
The right raw material is essential to ensure the required function and quality of the serial product. Our experienced project team will advise you on the selection and we will discuss topics like corrosion protection, UV stability, fire protection classes, chemical resistance or thermal conductivity. Together we will find the optimal solution for your application, even under challenging environmental conditions.
3. Prototyping & 3D printing
As soon as we have final design data, we create 3D prototypes of the new parts. This allows you to test the enclosure in practice even before molds have been made. Potential errors can thus be detected and eliminated at an early stage.
4. Mold setup & Project duration
We use top-quality steel and standard parts from renowned manufacturers for our molds. All components are optimally designed for the molded parts, defined raw material and the required output quantity.
Once the design data has been approved, we need between 10 and 14 weeks to present an initial sample from the newly created molds.
5. Serial production
After toolmaking has been completed, we produce your special enclosure in series. Our in-house plastic injection department at the Kirchlengern site is equipped with modern machinery and is automated to the highest degree. We control the entire value chain from raw granulate to the finished product.
6. Services & Further processing
After production of the special enclosure, we will gladly take over further services for you. The assembly of cable glands or membranes is part of our spectrum, such as CNC processing, screen printing or the complete wiring and assembly including functional testing.
Real-life example - Special enclosure for the kitchen industry
Initial situation - Our customer produces a connection enclosure as an interface for connecting decentralized kitchen appliances.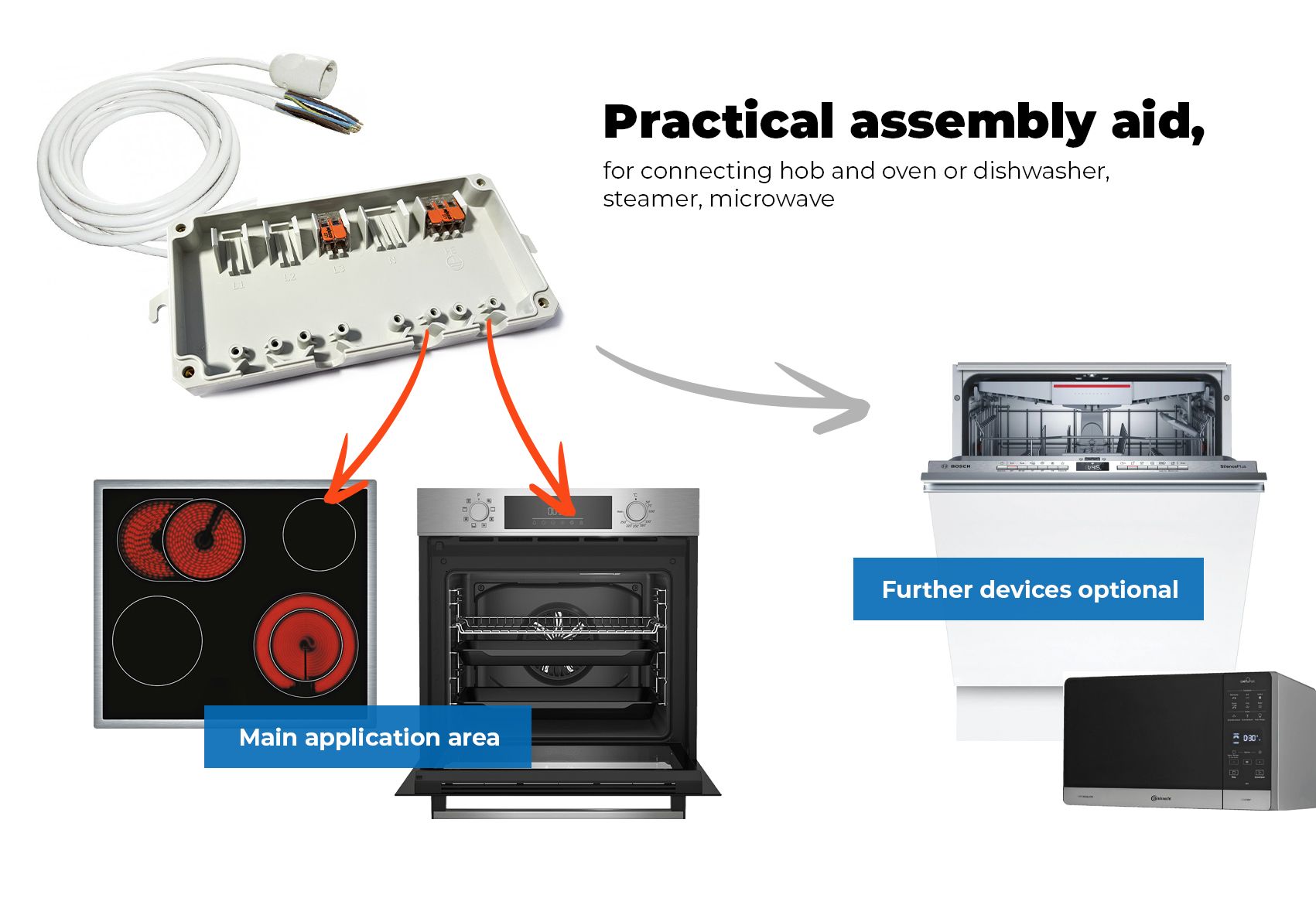 The connection box serves as a problem solver for following situation:

"A kitchen is planned with a stand-alone cooktop and a high oven. Both appliances are about 3 meters apart and there is only one stove connection socket, but no free sockets!"
Advantages of the connection box:
No additional sockets have to be installed
The complete connection is made via a fused stove connection box
No electrician is required for installation
The power supply is permanently connected and no plug-in system
The enclosure previously used was a universal box. It fulfilled its core task: protection against moisture, dust and contact.
Looking more closely into it and in the joint discussions, following optimization potentials have been identified:
Screw terminals with high assembly effort
No marking of the cables (subsequently realized with stickers)
Narrow installation "inside the enclosure" with limited space
Wall mounting of the enclosure only possible with open cover
Limited stability due to thin walls
Non-optimal dimensions for wall mounting behind the kitchen
High delivery times and difficult availability
The product is successfully marketed for many years and the sales figures are constantly increasing. For this reason, the decision was made to redesign the enclosure.
Turning old into new - The result is convincing
In order to implement all customer requirements and realise necessary functions, a new special enclosure made of ABS was developed.
Advantages compared to the previous solution:
Optimal dimensions of the enclosure (length x width x height)
Flat design for installation behind kitchen furniture
Wall mounting of the enclosure with closed cover using integrated mounting lugs
Screwless connection technology with WAGO lever terminals (time saving compared to screw terminals)
Wiring outside the enclosure and snap-in fastening of the terminals in a defined position
Integrated marking in the plastic part (L1, L2, L3, PE)
Integrated strain relief by clamping bars or screwed brackets
Made in Germany with short lead times and direct access
Are you interested in our services?
As an innovative solution provider, we are proud of many successfully realized projects. Together we can also develop your customized enclosure. We are looking forward to your contact.
Overview of our services:
Technical consulting for individual enclosure solutions
Advice on the selection of production materials
Preparation of design and construction documents according to your specifications
Feasibility studies and revision of existing designs
Creation of prototypes using 3D printing
Design and creation of injection molds
Design and creation of die casting molds
Series production of special enclosures
Mechanical processing (CNC)
Optical design (powder coating, screen printing, engraving, etc.)
Assembly work
Quality documentation, certification and testing
#specialenclosure #special #multibox #box #enclosures