In our category #morethanboxes we would like to introduce special enclosures from our production. Depending on the application, these differ in shape, material or the degree of customization. However, they all have one thing in common - protecting the inside is their core function!
MAY WE INTRODUCE
MBT 128050 for agricultural technology
This week we would like to introduce our enclosure MBT 128050. MBT stands for MULTI-BOX (T)erluran which is the trading name of the raw material ABS. The number 128050 stand for the enclosure dimensions 120x80x50 mm.
The fully assembled enclosure is used in agricultural technology. Here it serves as an adapter and interface for connecting external measuring instruments to the barn system during maintenance and repairs.
From mechanical processing to screen printing and assembly including wiring
The enclosure is mechanically processed in the first step and then screen-printed with a highly abrasion-resistant paint. Afterwards, we equip it with the defined components and do the wiring and functional testing.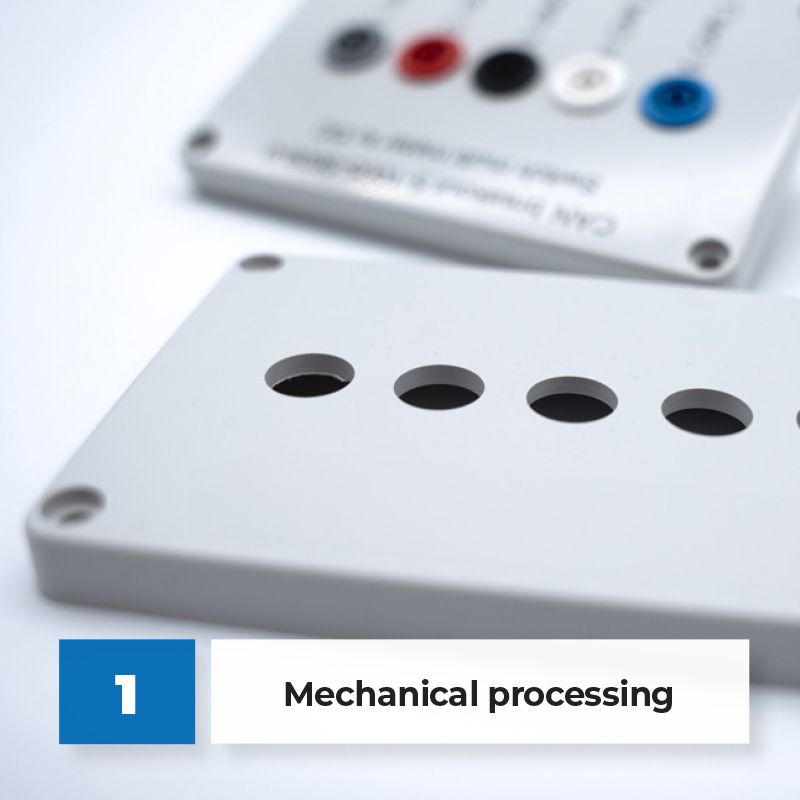 Advantages through the complete solution of enclosure and service:
Optimise your supply chain
Reduce transport costs & production times
Minimise organisational effort
Completely eliminate possible rejects during internal processing
You can find more information about our service here:
MBT enclosures made of ABS: Low-cost lightweight for a wide range of applications
MBT enclosures made of ABS are all-time classics. These products are often used in measurement and control technology or in mechanical and plant engineering. They are convincing with:
Low weight
High tightness
Very good price-performance ratio
Wide range of mechanical processing options
The material ABS is not fully resistant against UV light. For this reason, we recommend using MBT enclosures indoors only. For outdoor applications, we have an equivalent range called MBM, made from UV-stable polycarbonate.

MBT enclosures are available with grey or transparent lids.
For applications where "color" is required, we offer certain sizes in red, yellow, blue and black in our MBT Multi-Colour series. With corresponding quantities, we can also respond to your individual colour requirements.

Features of MBT enclosures:
Standard colour Grey RAL 7035
Material cover and base ABS
Seamlessly foamed-in 2-component polyurethane gasket
Captive cover screws made of stainless steel
Continuous operating temperature min. -40 °C to max. +80 °C
Suitable for indoor use
Protection class IP 65 to DIN EN 60529
Flame protection class UL94 HB
Absolutely corrosion resistant
Low weight despite high stability
More information and the complete size overview can be found here:
#morethanboxes #mbt #multibox #box #enclosures
#MORETHANBOXES
www.multi-box.com