Dust, water, heat, cold or mechanical impacts are no problem!
MBX PRO enclosures offer excellent protection for sensitive electronics even in extremely demanding environments.
EXTREMELY TIGHT!
Protection class IP69 & IP66
With a seamlessly foamed-in 2-component polyurethane gasket, all types achieve protection classes IP69 & IP66. The enclosures can easily withstand cleaning with a high-pressure cleaner or short-term flooding. This makes them ideally suited for use in vehicle construction, agricultural technology, shipbuilding or classic plant engineering.
Thanks to the new developed sealing design, MBX PRO enclosures offer excellent protection against water and dust.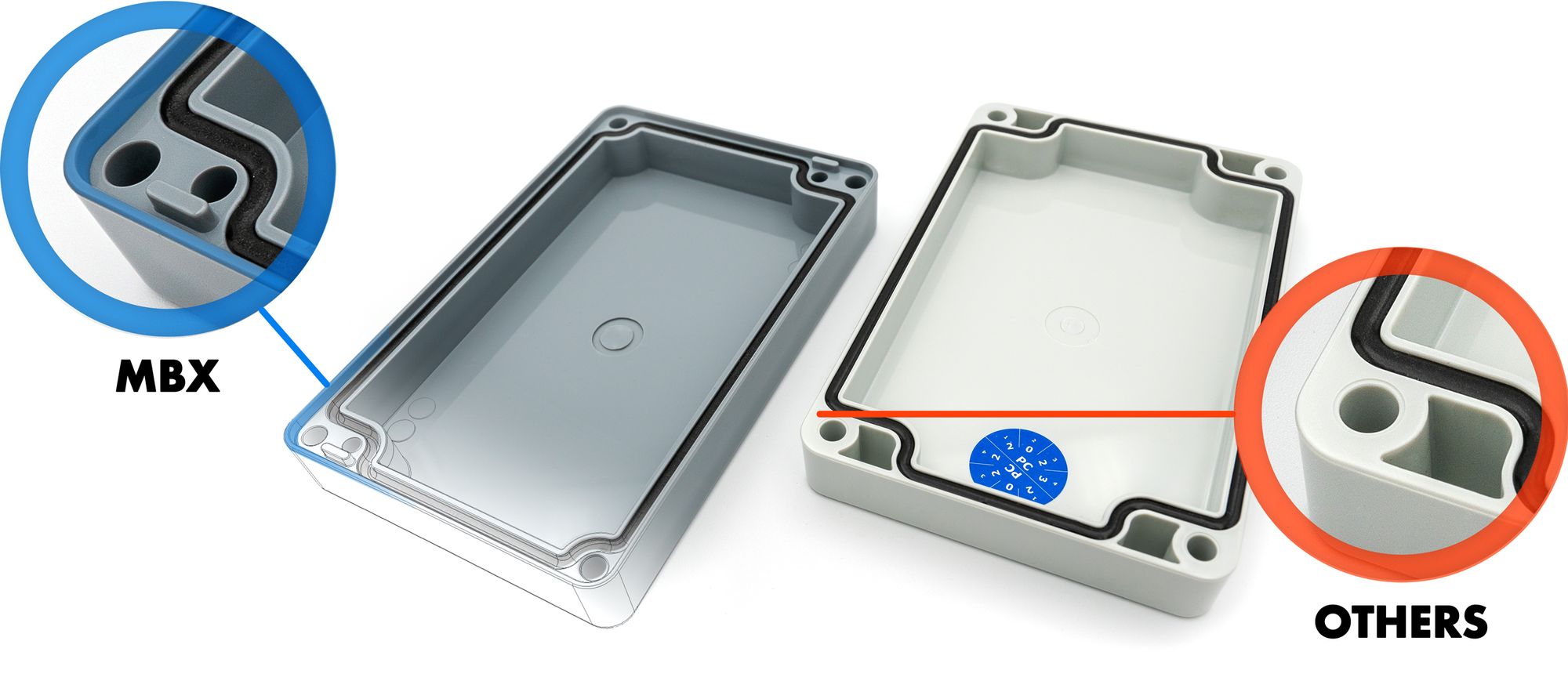 The new multi-level sealing construction with a surrounding protective frame absorbs the force of the impacting water jet. The seamlessly foamed-in PU gasket lies fully protected behind the frame. This way, the MBX-PRO enclosure achieves a significantly better tightness and higher protection class than comparable standard enclosures on the market.
EXTREMELY IMPACT RESISTANT & HIGHLY DURABLE!
Impact resistance level IK10
MBX PRO enclosures are produced out of a newly developed, impact-resistant and weatherproof polycarbonate material.
Thanks to an optimised molecular structure, the material is significantly more durable than conventional industrial polycarbonate and maintains its technical properties even at temperatures below 0°C.

Thanks to our own in-house plastic injection production, we have direct influence on the entire value chain of our products and guarantee highest quality.
FIRE PROTECTION IN BEST FORM!
Flammability class UL94 V-0/5V
MBX-PRO polycarbonate enclosures are perfectly suited for applications with increased temperature loads and potential fire risks. They are made of flame-retardant and self-extinguishing polycarbonate with UL94 V-0/5VA approval. They therefore comply with the highest classification in the fire resistance of plastics.